Learning for Life and Work
Welcome to the Learning for Life and Work Department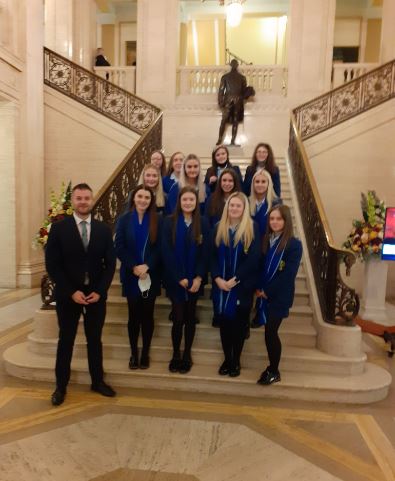 Department Staff
Mrs M Mc Keever (Head of Department)
Mr M. Williamson
Mrs L. Curran-Malone
Miss E. Smyth
Miss E. Owens
Miss K. Morgan
Miss C. Murray
Mr C. Murphy
Mr D. Wylie
Mrs M. Arkins
Introduction
Key Stage 3
Learning for Life and Work is a compulsory Area of Learning at Key Stage 3. It has three subject strands: Employability, Local and Global Citizenship and Personal Development.
Learning for Life and Work builds on Personal Development and Mutual Understanding at primary and aims to bring closer links between the curriculum and the knowledge, skills and capabilities that are necessary for life and work. Its main objectives are to develop young people as individuals, as contributors to society, and as contributors to the economy and the environment.
Learning for Life and Work is taught in carousel in Years 8 and 9 and covers Local and Global Citizenship and Personal Development. In Year 10 the course covers the Employability component of the curriculum.
GCSE Learning for Life and Work
This qualification enables students to progress to study subjects such as Business Studies, Health and Social Care, and Economics. It is also a good foundation for careers in business, finance, marketing, human resources and research.
There are three written exams, each worth 20% of the overall mark, and an investigation worth 40%.
The specification has four units:
Unit 1: Local and Global Citizenship
Unit 2: Personal Development
Unit 3: Employability
Unit 4: Controlled Assessment Task.
Preparation for Adult Life (PAL)
Learners can develop skills while exploring a wide range of areas relevant to them both now and in the future: from cultural diversity and social justice to preparing interviews and improving overall health and well-being.
Learners may choose either to take the Level 1 qualification first or to go straight to the Level 2 qualification. At each level, they have opportunities to develop their understanding of:
diversity and inclusion;

human rights and social responsibility;

equality and justice;

roles and responsibilities of parents;

work in the local and global economy;

social, economic and cultural issues; and

personal development.