Welcome to the Religion Department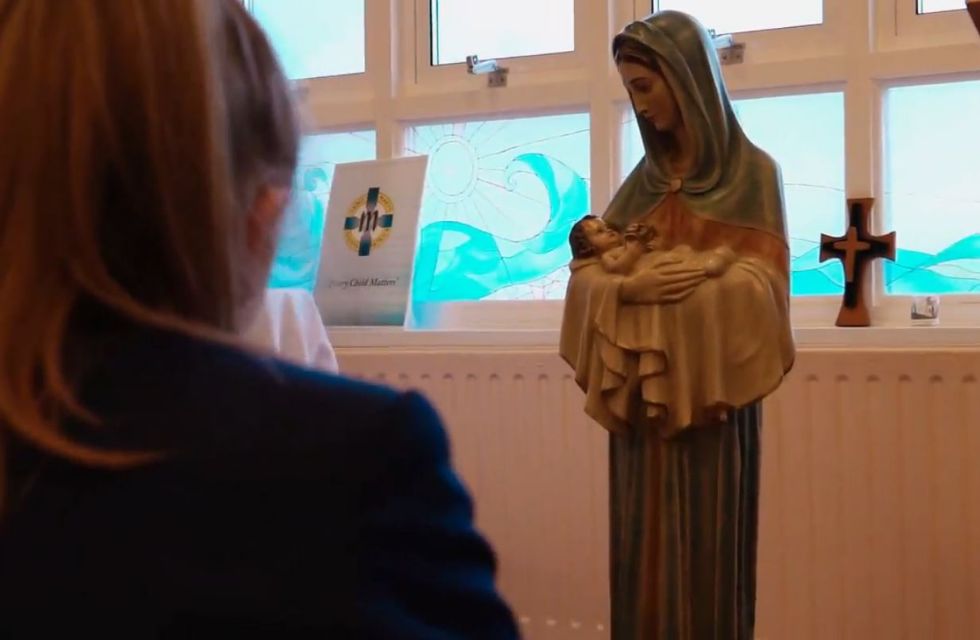 Department Staff
Mrs D. Wylie (Head of Department)
Mrs R. Flynn
Mrs L. Curran-Malone
Mrs U. Watters
Mrs M. Leonard
Introduction
Our school has strong links with the Mercy Order. The Catholic values of Catherine Mc Auley and the Sisters of Mercy underpin all we do.
All students of different faiths and background receive opportunities to develop their personal understanding and enhance their spiritual and ethical awareness. In St Mary's all Pupils will study Religious Studies until Year 14.
We provide Religious Education in line with the Core syllabus, which at Key Stage 4 includes the Revelation of God, the Christian Church and Morality.
Key Stage 3
Pupils study beliefs of the Catholic Church, other Christian denominations, and some World Religions.
The teachers in the department will provide our pupils with opportunities to develop the Cross-Curricular Skills through Religious Education. Teaching will also promote the relevance of learning to everyday life and work.
Religious Studies is more than a subject; it is about how we live out what we learn in our lives. We strive to provide our pupils with many opportunities to develop and enhance your faith, morality and spirituality.
It is important that as a Catholic school, we promote the values of mercy, justice, service, compassion, love, empathy and human dignity.
We provide many opportunities through, Prayer Services, Retreats, Masses, Confessions, Prayer Groups, fundraising activities, volunteer work, Parish link work and the Pope John Paul II award to do this.
All members of the department aim to inspire our students to be "shining lamps, giving light to all around us and resolve to do good today and better tomorrow." Catherine McAuley.
GCSE Religion
Aims
To acquire knowledge and develop understanding of the beliefs, values and traditions of Christian Church (in particular the Roman Catholic tradition);

To consider the influence of the beliefs, values and traditions associated with one or more religions;

To consider religious and other responses to moral issues;

To identify, investigate and respond to fundamental questions of life raised by religion and human experience, including questions about the meaning and purpose of life;

To develop skills relevant to the study of religion;

To come to a deeper, more active personal faith.
Year 11 Unit 5 Written exam 50%
Written paper x 1 hr 30 minutes at end of Year 11
Unit 5: Christianity through a Study of the Gospel of Mark
The identity of Jesus

Jesus the miracle worker

The teaching of Jesus

The death and resurrection of Jesus

The role and nature of Christian Discipleship
Year 12 Unit 4 Written exam 50%
Written paper x 1 hr 30 minutes at end of Year 12
An Introduction to Christian Ethics
Personal and family issues

Matters of life and Death

Developments in Bioethics

Contemporary issues in Christianity

Modern warfare
A-Level Religion
AS Religious Studies involves an in-depth study of two separate units.
Each AS examination paper will have two sections: A and B. In your exam, you will ANSWER TWO QUESTIONS: ONE FROM Section A and one from Section B. In Section B, part B of each of the two questions will examine the wider human experience.
AS Level Unit 1: An Introduction to the Gospel of Luke
In researching Luke's Gospel, you will examine topics such as:
Religious and political background

How and why the Gospel of Luke was written

Authorship, date, purposes and characteristics of the Gospel

Historical accuracy and reliability of Luke's Gospel

Key narratives in Luke's Gospel- Infancy and the early ministry of Jesus

Meaning of the parables and miracles of Jesus

Key themes of Luke's Gospel- discipleship and salvation history
1 hour 20 minutes written paper
50% of AS, 20% of A-Level
AS Level Unit 7:
Foundations of Ethics with Special References to Issues in Medical Ethics
The second unit that you will study is Religious Ethics and this includes an in-depth study of the following:
Deontological approaches to moral decision making: The Decalogue (Ten Commandments) and Sermon on the Mount

Nature of biblical ethics and role played by moral commands

Ethical Theories: Natural law, Utilitarianism, Situation Ethics

Life and Death Issues: Abortion, Euthanasia, women's rights, rights of the unborn, sanctity of life, personhood, doctrine of double effect, and religious, secular and feminist views

Bioethics: Infertility, IVF, human surrogacy, status of the embryo, new reproductive technologies and the role of the Human Fertilisation and Embryology AuthorityThe relationship between science technology and Christian ethics.
1 hour 20 minutes written paper
50% of AS, 20% of A-Level
A2 develops the study of the Gospel of Luke and Ethics and Society
In the A2 examination, the synoptic element will be assessed in section B of each examination paper. The synoptic paper assesses your ability to make links between the two areas of study, show that you know the key learning outcomes, understand the human experience element of the course as well as show that you can relate your knowledge on religious texts, authority and interpretation.
A2 Level Unit 1: Themes in the Synoptic Gospels
This unit builds on the study of Luke's Gospel but then widens to include the Gospels of Matthew
and Mark:
Background to the Synoptic Gospels

The importance and contribution of Biblical Criticism

The person of Jesus in the Synoptic Gospels

The ethics of Jesus in the Synoptic Gospels

The Passion and Resurrection Narratives in the Synoptic Gospels
2 hours written paper
50% of A2, 30% of A-Level
A2 Level Unit 7: Global Ethics
Students learn about global rights, including the historical development of Christian and secular
perspectives on human rights focusing on topical issues in the world today.
Virtue Ethics and ethical relativism

Free will and determinism

The nature of rights

Sexual identity and gender justice

War and Peace

Ethics of justice, law and punishment
2 hours written paper
50% of A2, 30% of A-Level